In just six weeks, develop the daily habits and simple systems that will help you thrive. Transform your plate to delish and nutrish. Find the fun in physical activity. Nourish your soul. Wake up rested from a good night's sleep.
So that you feel calm, happy, and reclaim your better self!
I know you want to eat healthier and live stronger, but there is just so much noise about how to do it which leaves you feeling confused and overwhelmed.
Right?
That's just plain wrong, because you shouldn't need a Ph.D. to live well.
Imagine if in just six weeks, you could…
✅Enjoy wholesome food that is nourishing and delicious.
✅Develop better habits using a simple but powerful proven technique that allows you to actually stick to them.
✅Create daily routines that help you eat healthier and make your environment work for you, not against you.
✅Wake up refreshed from a good night's sleep.
✅Find physical activity that you enjoy and makes you feel better.
✅Learn how to feed your soul so that you feel centered.
The LiveBest Masterclass is a lifestyle program that will show you how to create better routines, better habits, and better systems that will allow you to live stronger, longer.
You know you should "eat better." You know what to do: Cut down on sugar and salt. Eat more lean protein. It sounds easy enough, but are you doing it? Join me to learn how to do it, deliciously. We'll focus on how to feed your soul, heart, muscles, energy, and well-being!
I know your life is busy.
Making change can be challenging. To help you stay on track, courses will be delivered weekly 📅 to give you time to set goals and track them. Watch at your convenience, on your own time ⏰. You'll need a computer with audio to listen in.
Six one-hour recorded courses delivered weekly will:
Help you identify foods to live stronger, longer
Find activities you can do for life
Live better intentionally
Feed your soul
Reduce your risk of developing diabetes and heart disease
My goal is to take the mystery out of 'healthy eating' and to help people live stronger, longer. What you put on your fork gives you the energy to maintain your get-up-and-go for all the things you want to do. To live happier. Te feel joy.
But it's not just about food. I'd like to invite you to join a 6-week LiveBest Masterclass where we dig into what feeds your soul, better sleep and exercise. Six lessons delivered weekly with assessments, solutions and connection.
As a registered dietitian, people always want to know what I eat. I used to think I could share info and let people figure it out themselves.
F L A S H…. F O R W A R D ….TO… TODAY…
Turns out I was wrong.
People wanted me to tell them what to eat, what to buy, how to cook it. So I started making notes. I created a website. I wrote ✌️books. I developed recipes and sent those recipes and tips to major publications. Like Prevention. Shape. Reader's Digest. And more. And they were published.
I'm actually happy to admit that. Because it turns out people like delish and nutrish.😋
This 6-week series will help you reclaim your better self so you can thrive with more energy, stamina, creativity, and fun. So you can do things you love.
Like feel joy. 🎈
Like live with vitality. 🤸‍♀️
Like enjoy delicious food. 🍋
For healthy changes to be sustainable, they need to be simple and straightforward. The LiveBest 6-week Masterclass guides you to long-lasting solutions on how you can end your nutrition confusion, enjoy food that's both wholesome and nourishing, plufeed your soul, and improve your physical activity and sleep. We're talking a reboot.
I'm not rehashing what you already know. I'm sharing what you need to do to revitalize yourself in just 6 weeks!
Live even better!
The LiveBest 6-week Masterclass is a healthful approach to eating high-quality foods, living better intentionally, moving more to nudge you in the right direction to feed your soul, heart, muscles, bones, energy, and well-being.
Here's what others say:
Meet Isabel:
"If you think this is nutrition advice, you couldn't be more wrong, this is about living a richer life that tastes sooo good."
Meet Kathleen:
"My heartfelt thanks for your wonderful course! I appreciated hearing scientific information and the practical advice. I've tried several new foods and nearly all have been delicious. It has been fun changing up our meals! I've lost 12 pounds and more than an inch from my waistline. Best of all, my blood pressure is lower, and at a recent doctor appointment, was able to stop my blood pressure medication. 😉"
Meet Tim:
"I have learned much, been making changes (grocery cart, cooking, eating and "soul food!!") yet still have progress to make. You have provided me the practical knowledge and tools to make that progress. Thanks so much!!"
To live best you must be present to win — living with intention and making the most of what you have, to live the life you want. Are you ready? Take your first step and register for the Masterclass below. Cost? just $247.00.
Masterclass Timeline
Week 1
Setting LiveBest Goals
Time Saving Solutions
Week 2
Getting More from Your Fork with Vegetables and Fruit
Taking Food from Drab to Fab
Week 3
Getting More from Your Fork with Protein
Boost your Brain with Breakfast
Week 4
Getting More from Your Fork with Dairy
Decoding the Nutrition Facts Panel
Week 5
Getting More from Your Fork with Grains
Living Better Intentionally
Week 6
Getting More from Your Shoes
Finding a Good Night's Sleep
Make the course more meaningful and powerful. The Masterclass brings to life my book Your 6-Week Guide to LiveBest, Simple Solutions for Fresh Food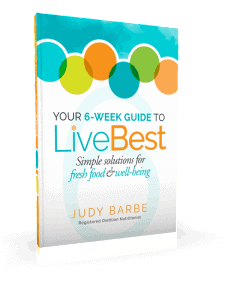 and Well-Being. Find it at Amazon.com.
In just 6-weeks you could be saying what others say:
"This masterclass was simple, practical, sensible, and enjoyable."

"I loved the masterclass. It was very interesting and helpful and provided so much good information."