Many people want to live with vitality — to live a higher quality of life longer. Yet, most of us don't need a complete overhaul — but a touch up, a refresh, a reboot for a happier, healthier, stronger you.
Do you need a reboot? You Must be Present to Win webinar series guides you to simple, practical solutions to transform you diet in just 6 weeks! For example, you'll learn:
How to get the fiber and nutrients you need from the foods you eat.
How to set goals for healthier eating.
Easy ways to eat more fruits and veggies into your meals.
Snack solutions that are actually good for you!
You'll find quick tricks for understanding nutrition labels, how to tell if a food is a good source of fiber, how much sodium is too much, and the easy way to understand "percent daily values."
You know you should "eat better." You know how to do it: Cut down on sugar and salt. Avoid saturated fats. Eat more lean protein. It sounds easy enough, but are you confused and hungry for solid information? Join me to reboot you!
Live even better!
You Must be Present to Win is a healthful approach to eating high-quality foods, setting up your environment to eat better mindlessly, moving more, and sleeping better to nudge you in the right direction to feed your soul, heart, muscles, bones, energy, and well-being.
This 6-week webinar series guides you to simple, practical solutions. To live best you must be present to win — living with intention and making the most of what you have, to live the life you want. Are you ready? Take your first step and register by clicking the button below. The cost is $147.00.
Six one-hour webinars will:
Help you identify foods to live with vitality
Find activities you can do for life
Set up your environment to eat better, mindlessly
Feed your soul
I know your life is busy. This webinar is designed to help you live even better. You can watch at your convenience, on your own time. Making change can be challenging, but exploration leads to discovery. To help you stay on track, webinars will be delivered weekly to give you time to set goals and track them. You'll need a computer with audio to listen in.
Webinar Timeline
Week 1
Setting a LiveBest Goal
LiveBest Numbers to Know
Week 2
Time Saving Solutions
Getting More from Your Fork with Vegetables and Fruit
Getting More Flavor
Week 3
Getting More from Your Fork with Protein
Breaking the Fast
Week 4
Getting More from Your Fork with Dairy
Decoding the Nutrition Facts Panel
Week 5
Getting More from Your Fork with Grains
Mindlessly Eating Better
Week 6
Getting More from Your Shoes
Finding a Good Night's Sleep
Make the webinar more meaningful and powerful. The webinar brings to life my book Your 6-Week Guide to LiveBest, Simple Solutions for Fresh Food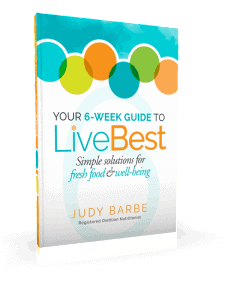 and Well-Being. Find it at Amazon.com.
Others who have participated in the webinar series say:
"If you think this is nutrition advice, you couldn't be more wrong, this is about living a richer life that tastes sooo good."
"My heartfelt thanks for your wonderful course! I appreciated hearing about scientific information and all of the practical advice. I've tried several new foods and nearly all have been delicious. It has been fun changing up our standard meals! I've lost 12 pounds and a little more than an inch from my waistline. Best of all, my blood pressure is lower, and at a Dr visit last week, was able to stop my blood pressure medication. Striving to always be present 😉"
"This webinar was simple, practical, sensible, and enjoyable."
"I loved the webinar.  It was very interesting and helpful and provided so much good information."
"I have learned much, been making changes (grocery cart, cooking, eating and "soul food!!") yet still have progress to make. You have provided me the practical knowledge and tools to make that progress. Thanks so much!!"